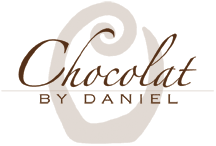 Chocolat by Daniel is handcrafted for the pure pleasure of indulging in the world's finest chocolate. All of our European-style truffles, gourmet chocolates, specialty chocolates and desserts are made fresh to order from the highest quality raw Belgian, French, Swiss and Venezuelan chocolate. Chocolat by Daniel contains no wax, preservatives, artificial flavors, corn syrup or added sugar and doesn't have an "assembly line" appearance. It is elegantly boxed and delivered right to your doorstep.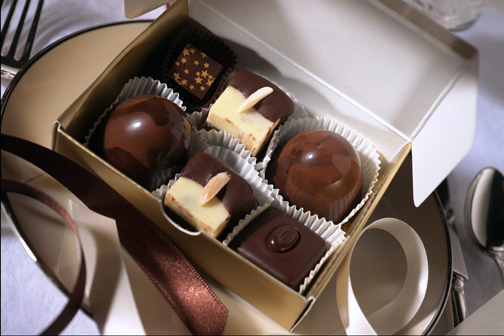 Daniel Nelson is a certified graduate of the prestigious Ecole Chocolat Professional School of Chocolate Arts in Vancouver, British Columbia and Valrhona's famous L'Ecole Du Grand Chocolat in France. Daniel's chocolates are made by hand from the world's finest ingredients. They have been enjoyed in the United States, Canada, Mexico, mainland China, Japan, Great Britain, Germany, Malaysia, Australia and New Zealand.
Special requests taken seriously.

Unless noted differently, prices are $4.50 per gold box of 2 pieces or $13.00 per gold box of 6 pieces.
For personal service, call 815.969.7990 or email Daniel directly.






Pas de Deux
A bold liqueur sets the tempo for a dance for two in the mouth as a masculine dark chocolate coating lovingly partners with a feminine milk chocolate center.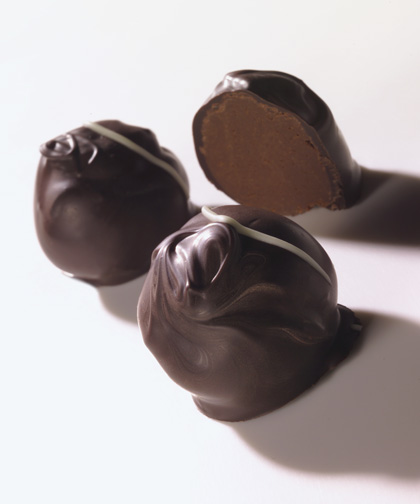 Attentive Italian
Get ready to melt with the passionately rich center of dark and milk chocolate mingling with an Italian amaretto d'amore, hidden in dark chocolate as it focuses on pleasing you.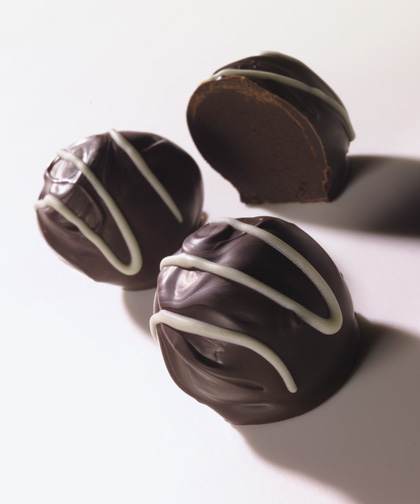 Champagne
Satiny milk chocolate mingles with fine champagne essence to set the mood for an intimate celebration.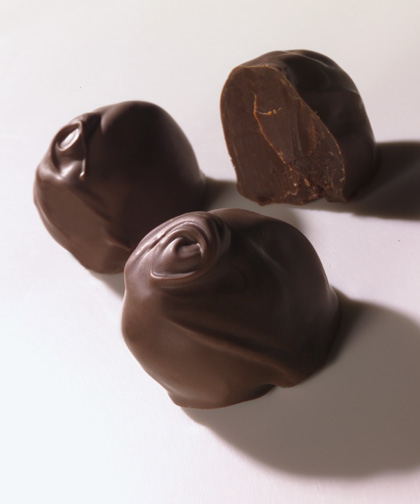 Silk and Fire
This ancient Aztec recipe's blend of dark tropical chocolate, allspice, and several types of chile pepper survives the centuries to drum up the sights and sounds of the Mesoamerican jungle where it all began. Beware the jaguar!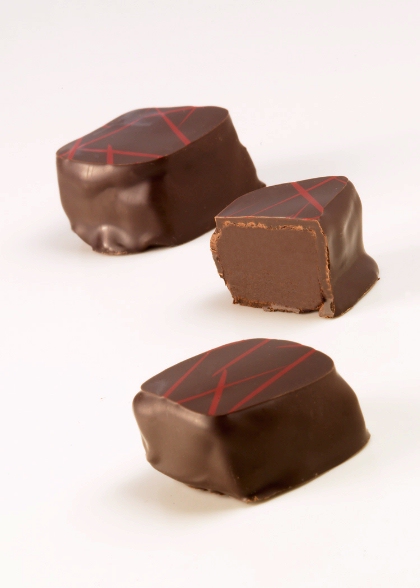 Cafe au Lait
Lingering memories of the morning after a night to remember. The center is a creamy white chocolate gently blended with a silky milk chocolate then infused with coffee. Enrobed in more milk chocolate and topped with a pure chocolate coffee bean from France.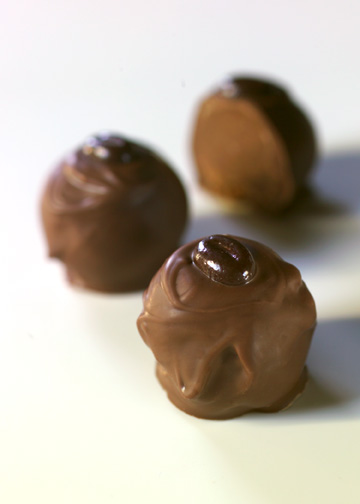 Rugged Adventurer
Strong, dark and potent: For those who like it aggressive, this 70% pure Venezuelan conquistador is sure to satisfy the deepest chocolate passions and longings.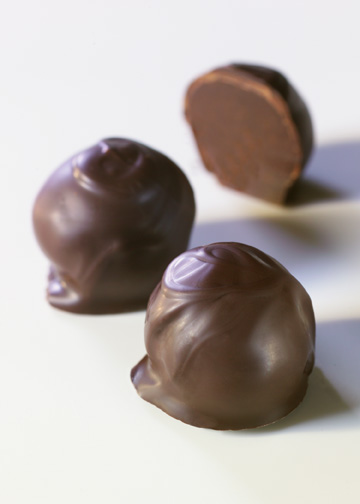 Pavé
Inspired by French paving stones, the bottom layer is dark chocolate and hazelnut paste. The top layer is white chocolate and pecans. Half dipped in more dark chocolate and topped with an almond sliver.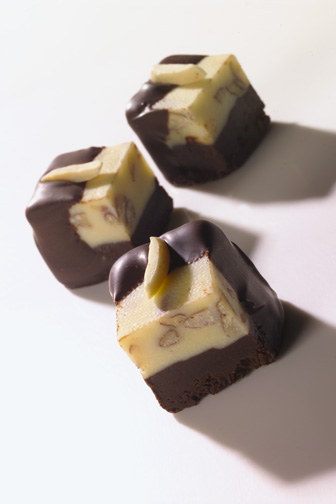 l'Orange
A classic pairing of dark chocolate and orange, semisweet chocolate is infused with the essence of a fresh orange before being enrobed in bitter dark chocolate.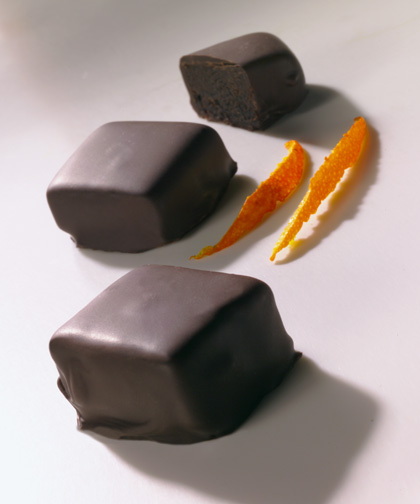 l'Citron
An unusual but pleasant pairing of dark chocolate and lemon, semisweet chocolate is infused with the essence of a fresh lemon before being enrobed in bitter dark chocolate.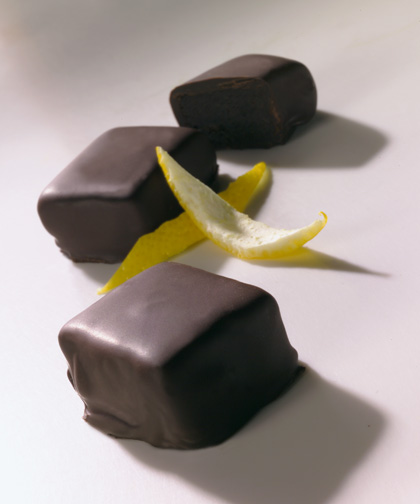 Swiss Pecan Torteaux
Sweet pecans and creamy Swiss butter caramel covered with silky Swiss milk chocolate. The heavenly caramel melts in the mouth and hardly sticks to the teeth.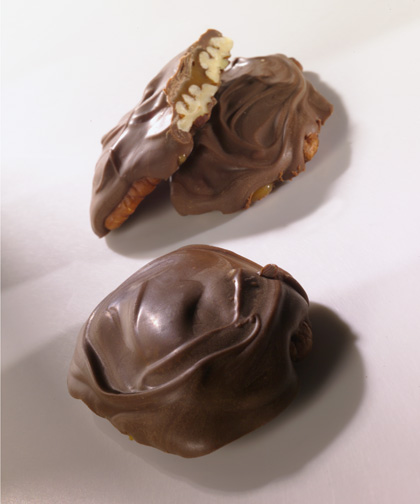 Le Café Noir
A perfect balance between superb dark chocolate and pure Italian espresso. Topped with a French pure chocolate coffee bean, your taste buds will tell you how the coffee and cacao beans were meant to be together!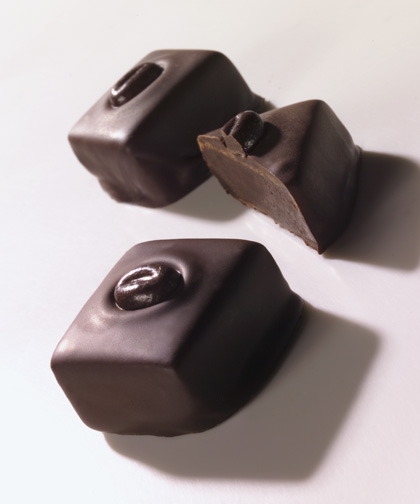 Ménage a Trois
A mingling of threes. Three sides, three elements, three flavors of dark semisweet chocolate, toasted almonds and Swiss butter caramel enrobed in bitter dark chocolate.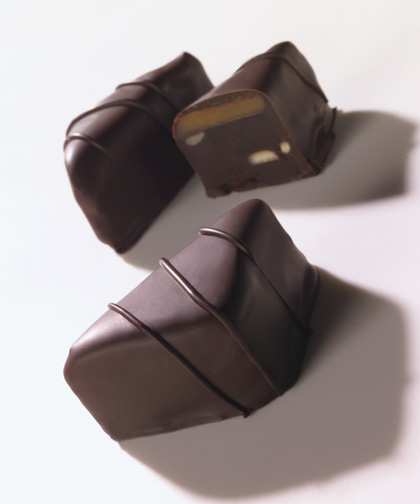 Mozart
A flavor combination enjoyed by the great composer himself and served to "Court" audiences during Royal performances in the late 1700s, espresso and a mild liqueur excite a dark chocolate aria.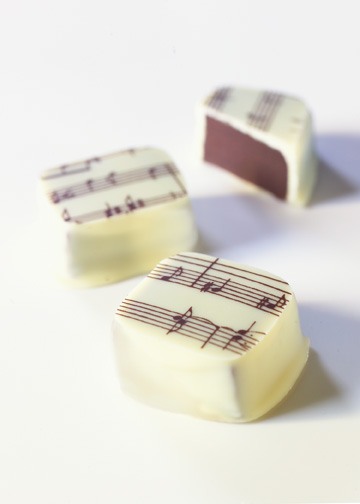 Religieuse
Made by the nuns of Oaxaca for soldiers and colonists in the New World, this 16th century recipe infuses dark chocolate with anise and a hint of cinnamon.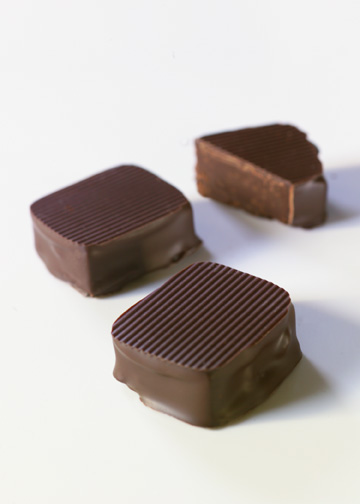 de' Medici
A most delicate chocolate experience was the last Grand Duke of Tuscany's favorite until his passing in 1717. A closely guarded state secret for many years, this soft, semisweet dark chocolate treat mingles jasmine with vanilla and cinnamon.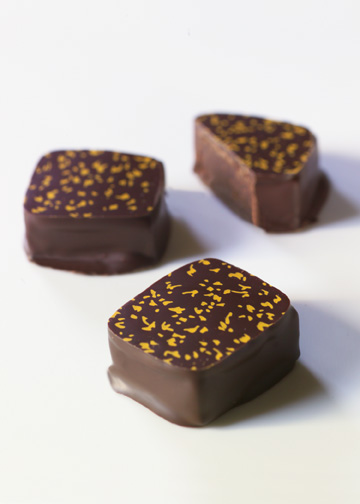 Richelieu
Cardinal Richelieu is said to have taken chocolate regularly to maintain his strength and health. This tribute to him is a blend of dark chocolate, cloves, cinnamon, chile and vanilla.




Casanova
The great lover called chocolate the Elixir of Love, preferring it over champagne, and took some before each frolic. The secret recipe in this smooth yet strong treat will tease, seduce then ravish as it speaks fluently in the language of love.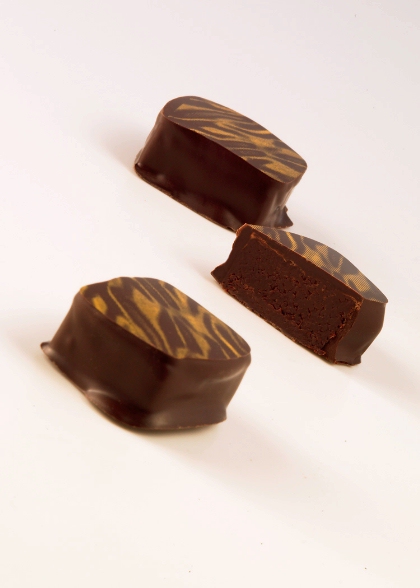 The Black Egg
$4.00 per piece in a gold box
A dark chocolate shell filled with an impossibly light and creamy dark chocolate crème.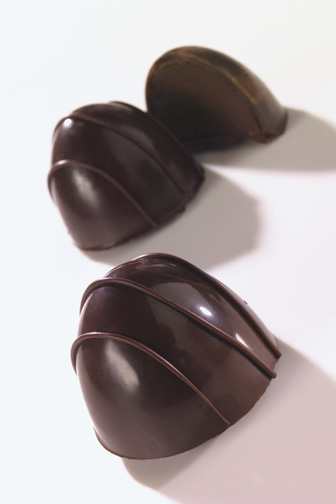 The Comtesse
$4.00 per piece in a gold box
Prepare to be pampered as an elegantly marbled dark and milk chocolate shell greets you. It crisply gives way and you plunge into an incredibly creamy milk chocolate center.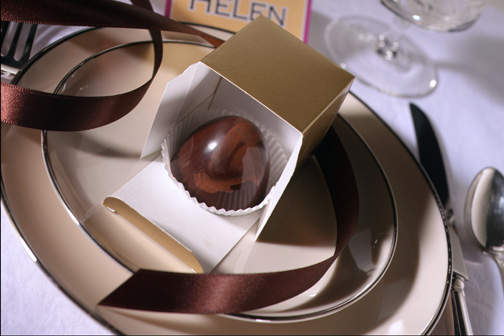 The Dark Heart
$4.00 per piece in a gold box
A tragically dark chocolate shell conceals creamy milk chocolate and bits of dried cherries.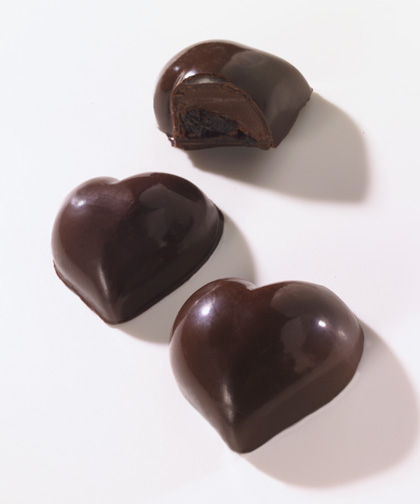 la Lune Noir (The Dark Moon)
$50.00 ea
Measuring 5 inches across and weighing nearly one and a half pounds, a dark chocolate shell conceals a smooth dark chocolate ganache. What secret passions can be revealed by moonlight?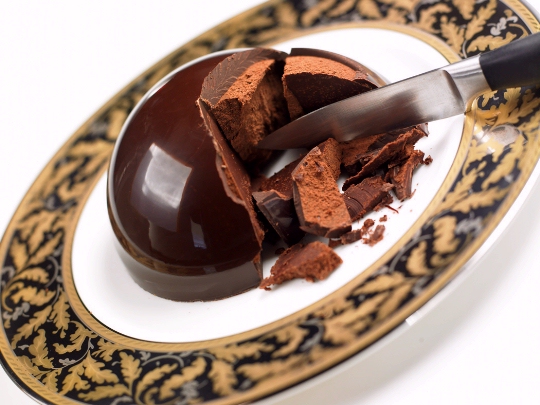 Chocolat Apogée
$50.00 ea
The ultimate chocolate experience presented in a 12-inch dark chocolate bar. Select from various layers of chocolate ganache, nuts, fruit and/or caramel. Weighs approximately one pound. Shown here is a center with white chocolate over Swiss butter caramel over milk chocolate and walnuts.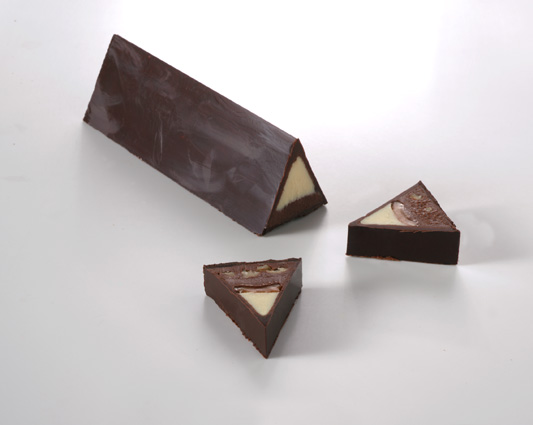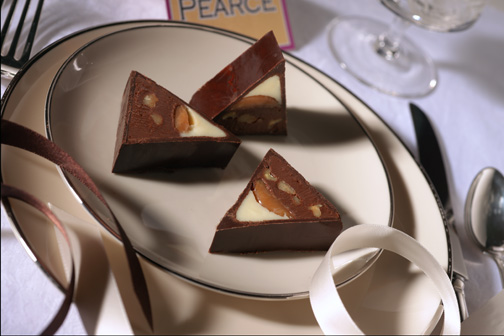 Or choose the simpler white chocolate over milk chocolate center. A unique finale. Perfect for a party.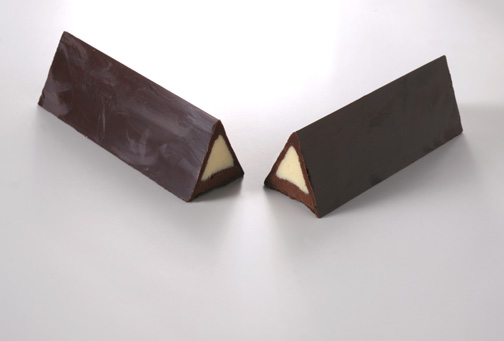 9" White Chocolat Raspberry Cheesecake
$60.00 ea
Based on a Parisian recipe, less than one-eighth cup of sugar is added to make this creamy gem, enabling its pure white Belgian chocolate to come forth with the raspberries.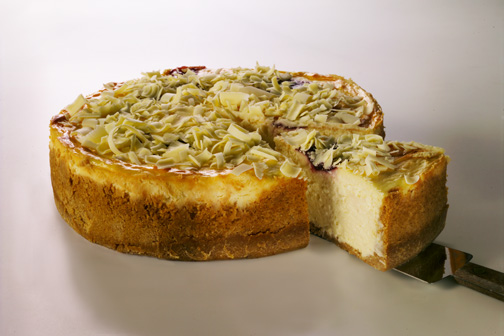 9" Naked Chocolat Dark Truffle Torte
$60.00 ea
A chocoholic's dream come true, this melt-in-your-mouth luxury is accomplished without flour or added sugar.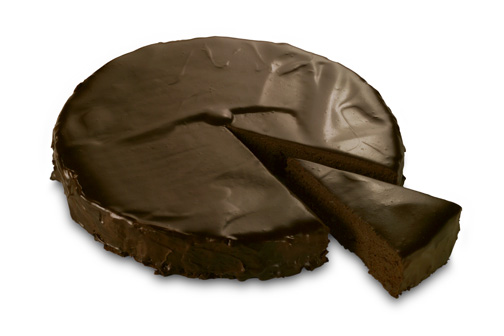 For personal service, call 815.969.7990 or email Daniel directly.

Chaussure a Talon
$80.00 ea
A special something for someone who has everything. All chocolate and completely edible. 8 inches long, 5 1/2 inches tall with a 3 1/2 inch heel, and full of superb chocolates. Even the leopard print accent is a truffle! Who said chocolate and fashion don't go together?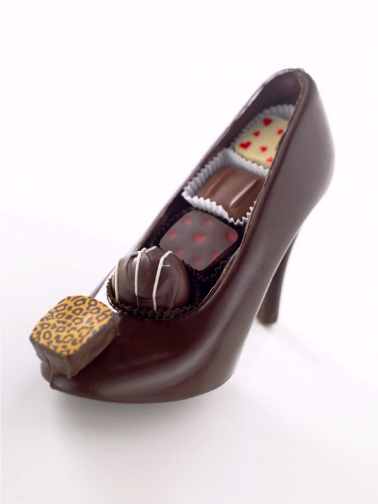 Daniel also creates edible chocolate gift boxes...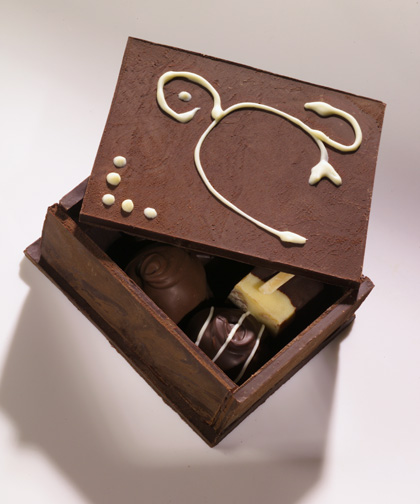 Modern chocolate art...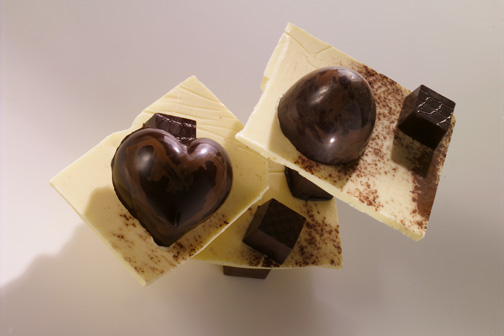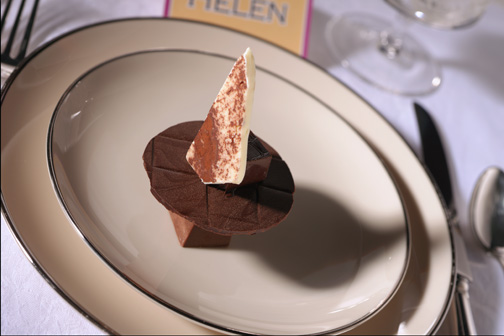 ...and botanically correct chocolate roses and lilies...all completely edible.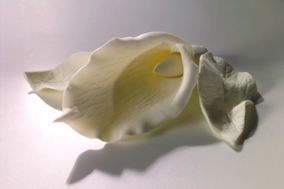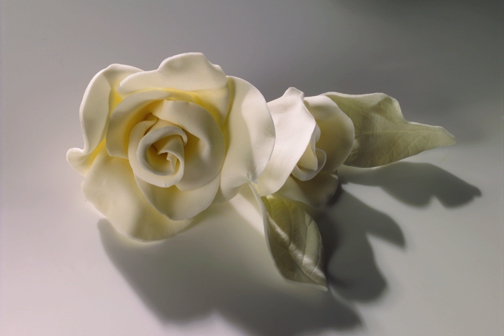 Check back often for new recipes, party and gift ideas.

Your personal guide to the sensational world of gourmet artisan chocolate,
Daniel